KENTUCKY DERBY, SEABISCUIT & OTHER HORSE RACING COLLECTIBLES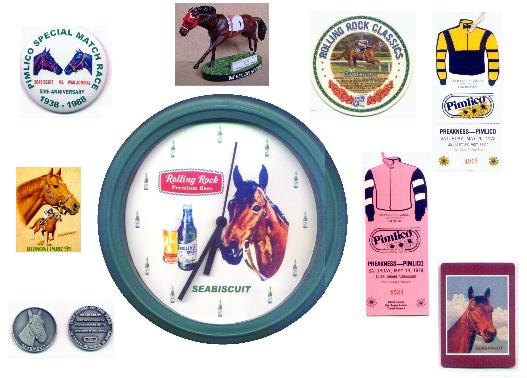 Welcome to the Kentucky Derby & Seabiscuit Collectibles site, your on-line store for all your horse racing memorabilia needs. We offer a variety of items for sale, with prices listed. All items are in like new condition, unless otherwise specified. Please select from the menu below.

---
---
Pay Securely Through PayPal !

---
CLICK HERE TO CHECK OUT MY AUCTION FEATURING OVER 20 DIFFERENT SEABISCUIT ITEMS ENDING JAN. 24TH.
---
Seabiscuit Coin/Medallion
Seabiscuit Playing Cards
Seabiscuit Lapel Pins & Buttons
Seabiscuit Photos
Seabiscuit Bobbleheads
Seabiscuit Clock
Seabiscuit Plaque
Seabiscuit Movie Poster
Seabiscuit in 1964 Book
3 different Seabiscuit Postcards
Seabiscuit Ceramic Coasters
Derby Programs
Derby Glasses
Derby Lapel Pins & Buttons
Preakness Items
Preakness Programs
Preakness Glasses
Preakness Lapel Pins & Buttons
Preakness Admission Tickets
Belmont Stakes Items
Belmont Programs
Belmont Glasses
Belmont Lapel Pins
Breeders' Cup Items
Breeders' Cup Programs
Breeders' Cup Glasses
Breeders' Cup Lapel Pins & Buttons
Rolling Rock Beer Items

Rolling Rock Beer Signs
Rolling Rock Secretariat Clock
Rolling Rock Man O'War Clock
Rolling Rock Seabiscuit Clock
Rolling Rock Bucket
Rolling Rock Coasters
Rolling Rock Glasses
Bobbleheads

Xtra Heat
2002 Kentucky Derby Horse
Laffitt Pincay, Jr.
Chris McCarron
Jerry Bailey
2003 Preakness Jockey Male
2003 Belmont Jockey Male
---
THOROUGHBRED RACING MEMORABILIA AUCTION
Three time yearly auction of thoroughbred racing collectibles featuring 700 items spanning 11 decades.
---


E-Mail- tbredhorseracing@aol.com

PHONE 1-910-686-4711